Offer different booking length or other choices on the same time
Give the guest the option of a shorter or longer booking length than normal, and/or menu choices.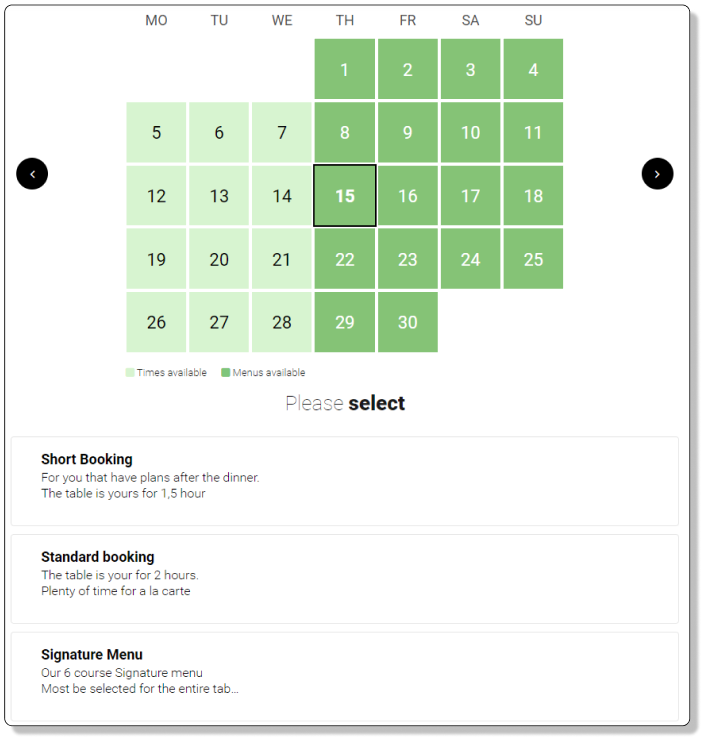 Go to Online Booking > Booking Concepts

In the Online calendar, guest can select between the normal setup or the special times.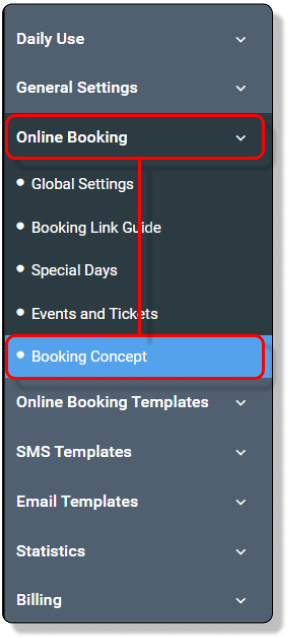 How to create a Booking Concept
Click "Actions" and "New Booking Concept" like in the picture below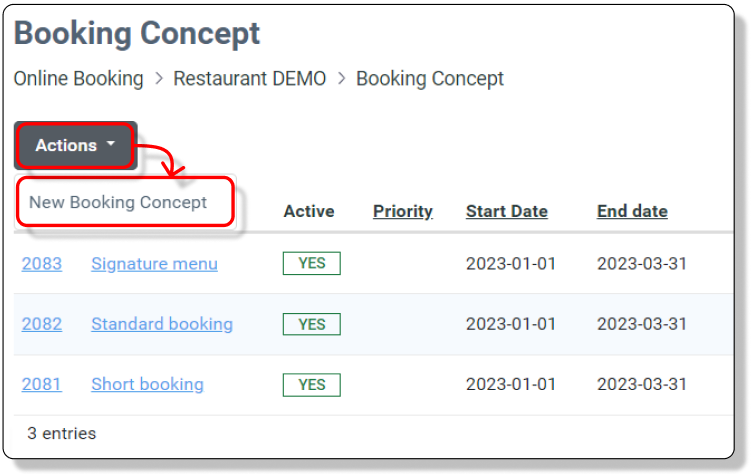 Setup the Booking Concept
Give Booking Concept a name. The name is internal so you can find and edit your rules later on.

Set the booking length for bookings made through this Booking Concept. If you want to offer longer time at the table, than your normal setup, then select a longer time here.

Check mark "Active" to enable Booking Concept

Calendar Rule
– Start Date; First date of the Booking Concept
– End Date; Last day of the Booking Concept

Check mark which weekdays within the Start and End dates, the Booking Concept should apply.
If you only want to offer the Booking Concepts on Fridays, make sure Friday is the only weekday with a check mark.

Check mark the days of the month you want to enable. Should the rule only apply on the 1st of a month, then check that.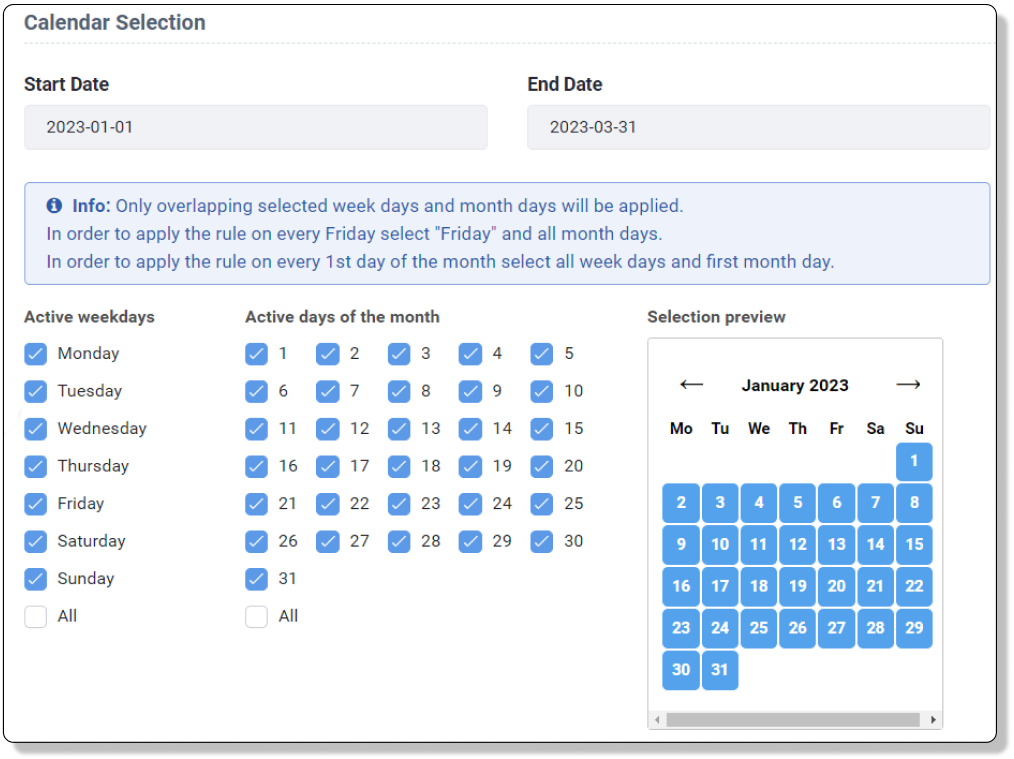 The rule will follow the capacity set in your Opening Hours, however you can choose that the Booking Concept should be offered in certain times only.
In the example below the Booking Concept will be offered on times with capacity between 17.30 and 18.00 only.

Decide if the rule should be for all bookings or for bookings of a certain size.
For example only bookings of 4 pax or more. If so, set Min. Pax to 4.

If you have more than one area, you can set if the Booking Concept should be available in all areas or not.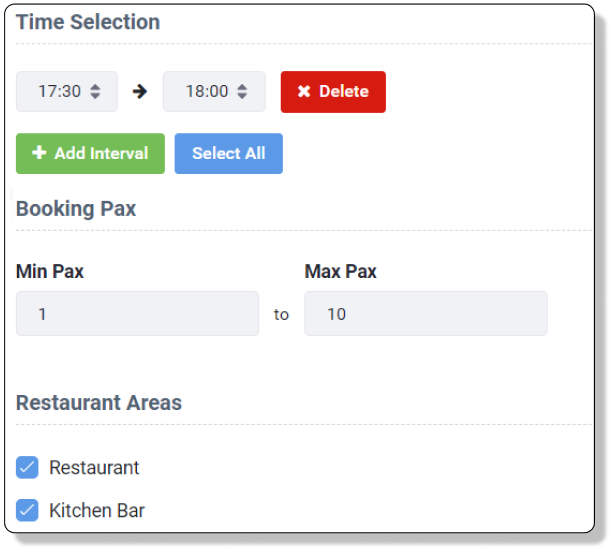 Give your Booking Concept a title- Should be short and precise. The title will be shown in the online booking, and in the booking list, where you can see what have been selected by the guest.

Give you Booking Concept a description – add more info. The description will be shown in the online booking, but not in the booking list.
The description is meant to provide more info about the Booking Concept. Could be;
– If it is a set menu.
– If they have less/more time than normal.

Set a priority if you want to change the order of your rules.
The higher the number, the higher on the list.

Remember to add name and description to all languages enabled for your online booking.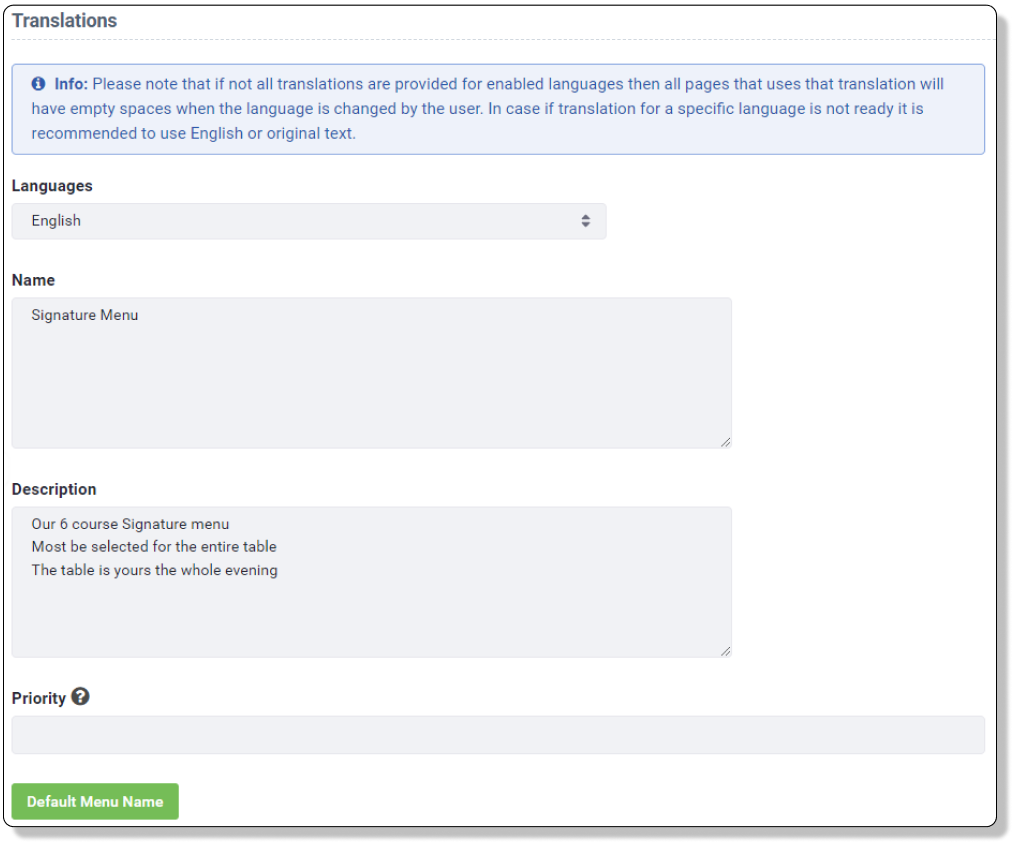 Please contact DinnerBooking at support@dinnerbooking.com to learn more about possibilities and prices