At the beginning of each week, we settle the accounts for all our customers. Here we send out any potential credit notes for ticket sales, prepaid bookings, gift cards etc. along with invoices for potential handling fees. You will usually receive the payout a few days later.
Terminology for credit notes
| Name | Description |
| --- | --- |
| Event | Ticket sales for the period stated on the credit note. |
| Prepaid bookings | Prepayment of a deposit made to secure the booking. |
| Booking Deposit | A deposit paid for a booking. The amount is set by the restaurant for each booking deposit |
| Gift cards | Payout of a DinnerBooking Giftcard redeemed in the restaurant |
| No Show | Payout of a credit card charge related to a No-show booking |
To see details, please go to dinnerbooking.com -> Billing -> Weekly Payouts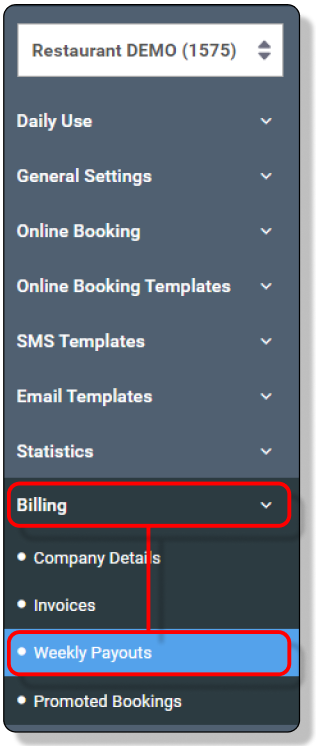 Weekly payouts

The weekly payouts section in the DinnerBooking web app contains an overview of all types of payouts that are due for your restaurant for each week. There is both a summed total as well as the amount per individual order.
Both the credit amount an invoice amount (expenses for handling fees) are displayed for a fast and easy overview.

Terminology for Weekly payouts
| Name | Description |
| --- | --- |
| Resource Type | Type of payout |
| Invoice Amount | Amount due to be invoiced to the restaurant for handling fees |
| Credit Amount | Amount due to be credited to the restaurant for purchased event ticket, prepayments, and redeemed gift cards |